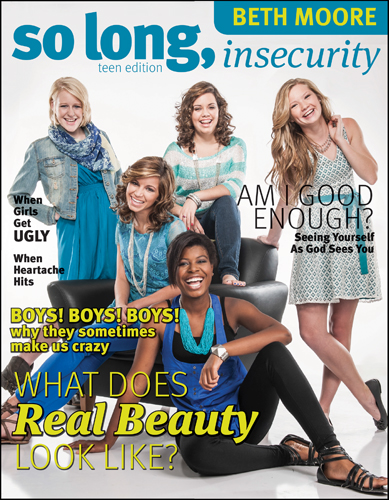 Author and Bible Teacher, Beth Moore tackles the issue of insecurity in this special teen edition of her best-selling book, So Long, Insecurity.
She answers questions like:

W

hat is insecurity? What does real beauty look like? How do I become the girl God meant me to be? How can I be happy and secure in who I am?
This book is written in a honest way. It's a simple, straight forward introduction to dealing with insecurity and how to be confident in being yourself. It is full of fun quiz's to test how you feel about different issues; it has answers from girls like you and me, and it is filled with bible verses to boost your confidence in Christ.
The book is laid out in an easy-read magazine style. I would recommend this book to younger girls who are just starting to struggle with these issues and need a bit of a fun introduction in how to deal with it.
The best way to use this book? Collect a group of your Christian girlfriends and read through each chapter together. At the end of each chapter, there are a list of thought-provoking questions you can use. I think it would be a lot of fun to do with your girlfriends and a good springboard to deeper discussions.
Rating: 6/10 stars
Content:

An interview references to drugs, alcohol, and pre-marital sex.
Ages: 12-14
~ Reviewed by Meggie